WOW Cambridge!
W2W - November 19, 2008:
This week Wire to Wire's own, Chris Goodhew was honoured and surprised to receive a visit from members of the Cambridge Chamber of Commerce, and the WOW Cambridge award committee.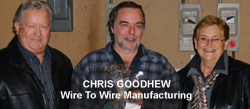 Chris was taken aback when they presented him with this month's WOW Cambridge award recognizing exceptional customer service.
The WOW Cambridge award is presented when the Cambridge Chamber of Commerce recognize's an individual, who has gone above and beyond, providing what your customer sees as extraordinary service in an everyday situation. These individuals and the businesses they work for exemplify service excellence, and most are completely surprised to be awarded, for what they believe is merely "doing their job".
Those of us that work with Chris everyday wish to extend our congratulations for this recognition of customer satisfaction, and a job well done!
The following is an copy of the referral letter as posted on the WOW Cambridge award site:
Chris Goodhew -Wire To Wire Manufacturing
I would like to nominate Chris Goodhew from Wire To Wire. Awhile ago I needed a custom wire product and approached Chris at Wire To Wire to make this product for me. While they don't usually make such small orders Chris was happy to help me out and personally make my item. I had to wait a bit for him to make my item and had the opportunity to watch Chris at work. When trucks came in he stopped what he was doing and helped the truck drivers load or unload their trucks. (He didn't leave my job, someone else was welding it) I also had the opportunity to see Chris interact with his employees. While sitting with them at lunch they told me Chris always lends a hand to them, and would never expect them to do a job he wouldn't do himself. They said he goes above and beyond to provide good customer service to every person who walks in the door.
While there later to get a second part, I could not believe the effort Chris put into making a bad situation right, while I was there he was running around in the rain picking up soaking wet papers that were scattered about the parking lot. When I asked what he was doing, he explained that someone had obviously stolen a briefcase and dumped it in their parking lot. He said the brief case had contained player's cards and birth certificates of the local city hockey team. He was trying to find the coaches name and number to return them, at the same time trying to dry out the papers so they were not ruined. His big concern was the players would not be able to play next game without them. The coach picked up the case while I was there, and Chris graciously turned down the reward.
I feel even with just the couple of times that I had the opportunity to deal with Chris, he is a great candidate for this award, he went above and beyond in customer service to help me get parts that I could not find anywhere else, even though it was not routine for them to deal with individuals for one or two pieces. It was obvious he gives 110% all the time and goes above and beyond in customer service by hearing his employees talk.
They were not surprised in the least by his actions to help. Chris even offered to deliver the part to me the second time if I did not want to wait while it was made. I of course declined and was then offered coffee and a donut while I waited - can you beat that? Not something you normally get at a small plant. Please consider Chris for this award!
---